Access to public administration services
Easier than you would expect
With MojeID you can now set up an Identita obcana and log in also to eGovernment services (besides private services). All you need is a security key and to activate this feature.
Citizen Portal
The Citizen Portal gives you access to free online services, such as driver's score, criminal record and more.
Taxes Online, Finally
At mojedane.cz, you can submit natural persons' tax and property tax declarations, plus many other obligations. From home, quickly, and with help.
Health Insurance
In the Moje VZP, E-komunikace ZPMV, Portál ČPZP, and Vitakarta OZP, you can display declared health care including insurance costs or arrears.
Cadastre of Real Estate
When you log in with Identita obcana, you will have complete data from the cadastral register. Without login, on the other hand, you have to enter captcha codes each time.
Pension Information
ePortál ČSSZ offers a quick informative calculation of retirement pension, the retirement pension personal list, and many other practical services.
Digital Receipts Clearly
The eRecept app allows to see both issued and not issued receipts, even several years back. Drug names, receipts' expiration dates — all at one place.
Easy Login to Data Box
If you own a data box, you will be able to log in to it more simply. If you do not, you can easily set it up. It will give you many other possibilities.
New Benefits Coming
The eGovernment starts to develop and there are more and more online services coming.
How to do it?
You will need to secure your MojeID account with a security key and verify your identity.
Sign up / Log in to MojeID
Add a MojeID Klíč app or another security key 
(MojeID account -> Settings -> Two-factor authentication)
Begin the process of making public administration services available
(MojeID account -> Settings -> Access to public administration services)
Verify your identity
(Czech POINT / eObčanka / data box)
Account security first
If you want to access the public administration services using MojeID, you need another authentication factor besides a password. You can use the MojeID Klíč app or another security key (tokens / authentication keys).
The MojeID Klíč Mobile App
An application for both iOS and Android used to confirm logging in to mojeID and partners' services by mere request authorization. This is the most simple way of using MojeID to access the public administration services.
More about MojeID Klíč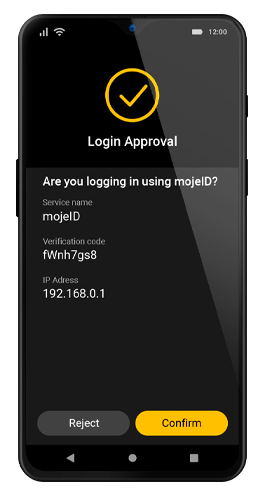 Hardware security key
A small device with a USB port (and/or NFC/Bluetooth technology) used to authorize login by pressing a button or tapping it to a phone. We recommend these keys: Idem Key (GoTrust), YubiKey 5 series (Yubico), Security Key NFC (Yubico).
System security key
Your computer with a Windows 10+ OS (Windows Hello) or a mobile device with an Android v. 7 or higher. Such key is already available in your device free of charge. After you activate it, you can authorize login by your fingerprint, pattern lock, PIN code, or other way.
MojeID already got "high" level of assurance
Do you want to buy government bonds online with MojeID and be prepared for other best secured eGovernment services? Activate the level of assurance "high".