Access to public administration services
Easier than you would expect
You can now log in to public administration services via mojeID. All you have to do is have a security key and activate the service.
Citizen's Portal
You will get access to online services such as a driver's score, a personal pension insurance certificate, e-prescriptions, a confirmation of study and many more.
Not just tax returns online
You will be able to file your tax return online and you will always get an overview of your pension insurance or incapacity for work.
Easy login to the data box
If you have a data box, you will be able to log in to it more conveniently with your mojeID credentials.
New services
With an officially verified online identity, you will be ready for the next upcoming benefits.
How to do it?
You will need to secure your mojeID account with a security key and verify your identity.
Login/register in mojeID
Add a MojeID Klíč or another security key 
(mojeID account -> Settings -> Two-factor authentication)
Begin the process of making public administration services available
(mojeID account -> Settings -> Access to public administration services)
Verify your identity
Complete the process and gain access to public administration services
Account security first
To be able to use mojeID to access public administration services, you need one more authentication factor besides your password. You can use the MojeID Klíč app or other security keys.
The MojeID Klíč mobile app
An app for iOS and Android in which you confirm logging in to mojeID and partner services just by approving a request. It is the simplest way to use mojeID to access public administration services.
More about MojeID Klíč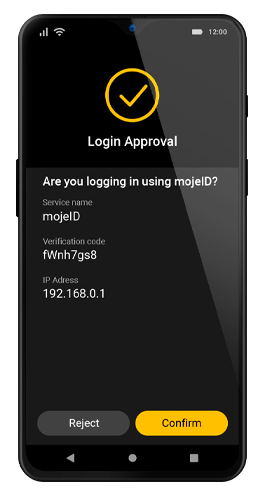 Hardware security key
A small device with a USB connector (or with NFC/Bluetooth technology) used to confirm login by pressing a button or tapping it to a phone. We recommend using these keys: Idem Key (GoTrust), YubiKey 5 series (Yubico), Security Key NFC (Yubico).
System security key
Your computer with OS Windows 10 (Windows Hello) or your mobile device with OS Android v. 7 and higher. Such key is available on your device for free and you can use it to confirm login using your fingerprint, drawing a pattern, entering a PIN code, etc.